The Lazarus Harps
Old Loves

starring (in order of appearance)

KYLE WOHLMUT

INES CAFFIER

JARMILA BOGUSOVÁ

PAUL ESPINOZA

DAMDIN SOLONGO

PETE GASCOYNE

MAC HINE

JENNIFER VAN DER HARTEN

JENNIFER ARNOLD

KYLE WOHLMUT

Also starring
MILENA DE SWART
HANNEKE HARTKOORN
MICHAEL KOSTER
ED TEN HOEDT
VINCE MOULTON
SLUBE QUAZ
HAYWOOD JABLOME
ERIC KERNS
NINE ELENBAAS
HANS VAN DER HARTEN
DO(U)G CZAJKOWSKI
MARK WARR
TREY GUNN
FRANK JOLLIFE
ARTHUR CHRONOS

VERLENE SCHERMER
JANE VALENCIA
TOM BENDERS
KYLE WOHLMUT
THERESA ESPINAL
WILL GORISSEN
MARGIE BUTLER
MARCEL MEIJER
ANS VAN DER HARTEN
ALISSIA MELKA-TEICHROEW
DIERDRE McCARTHY
RAY ASHLEY
FROMUNDA MASAC
RUDE BOY OPPERMANN
RAY MOOERS
Produced by
KYLE WOHLMUT
Assistant Producer
JARMILA BOGUSOVÁ
Directed by
ALAN SMITHEE
Written by
KIRILL WOHLMUTOV
with
Bedrich Smetana
Alan Reid
Wayne Shorter
Zuzana Lapcikova
Turlough O'Carolan

Manuel Ponce
A. Nonymous
John McCahill
Leslie Currie
Kyle Wohlmut
from an original screenplay by
CAIL WILMOT

Camera
ALISSIA MELKA-TEICHROEW
LESLIE CURRIE
BJÖRN GORISSEN
ROMAN LOBANTCHOUK

Editing
ROMAN LOBANTCHOUK

Art Direction
KARL WALMONT

Special effects
ALISSIA MELKA-TEICHROEW

Gaffer
KYLIE WALNUT

Key Grip
KAI EL-WOMBAT

Best Boy
MIRIAM BUTT

Left-handed Appalachian bread knife by
ROBERT LINN

Stunts
Andy Wallace
Kyle Wohlmut
Harry Sachs
Dermot Lyons
Ola Rinta-Kosti
Helmut von Gobbels

Jeroen Boekhorst
Chris "Big Gulp" Ogsun
Rachael Bray
Irene Wolke
Birgit Stübing
Amanda Munch
Stunt coordinator
HUGH JASS

Technical consulting & troll shorts
Mike Grimes

Unit manager
Dieter Satchel

Assistant to Unit manager
Gwen Vukoff

Web design and layout
Kyle Wohlmut

Backgrounds by
BUD'S BACKGROUND SHACK
La Honda, California

Incidental music
ANIL PRASAD
Performed by the Los Banos Radio Symphony Orchestra
RANJIT PADMANABAHAMAHAN, conductor

Songs
"VLTAVA"
by BEDRICH SMETANA
performed by THE LAZARUS HARPS

"SCHERZINO MEXICANO"
by MANUEL PONCE
Performed by Kyle Wohlmut & Jarmila Bogusová

"TENSE AND ASPECT WITHOUT YOU"
by KYLE WOHLMUT
Performed by THE TELLTALE HARPS

"SHE'S LATE BUT SHE'S TIMELY"
by Alan Reid
performed by Kyle Wohlmut & Jarmila Bogusová


"GOBI DICK SET"
Composer unknown
performed by Solongo Damdin & Kyle Wohlmut

"PRINCE OF DARKNESS"
by WAYNE SHORTER
Performed by THE LAZARUS HARPS

"MY LAGAN LOVE"
Performed by THE LAZARUS HARPS

"SHE LIKES WHAT I DO"
by Kyle Wohlmut (after Z. Lapcikova)
performed by Kyle Wohlmut

"THE GIFT"
by LESLIE CURRIE
performed by THE LAZARUS HARPS

"THE IDES OF MAY"
by KYLE WOHLMUT
performed by Kyle Wohlmut & Jennifer Arnold

"CANCO DEL LLADRE"
performed by Kyle Wohlmut

"BRIDGET CRUISE #1-4"
by Turlough O'Carolan
performed by THE LAZARUS HARPS

"AN DRO"
performed by Kyle Wohlmut & Jennifer van der Harten
Soundtrack available on ROCKING PIG records & tapes
Hairdressing & Hair Farming
APOCALYPTICUTS

Casting
Kevin Dolan, A.S.C.

The producers would like to thank:
Harpers Hall & culinary society
The Roland Corporation
Duplicase BV
Stanford University
The Celtic Shop, Bergen-op-Zoom
Warr Guitars
Jimmie Webster & Gretsch Guitars
webmonkey.com

The Music Plant, Utrecht
Digitech
Engels & Partners
The City of Palo Alto
Gryphon Stringed Instruments, Palo Alto
Dusty Strings Harps
FDNY
wohlmut.com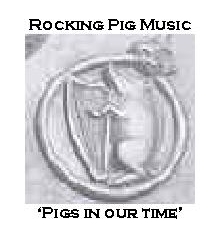 A Rocking Pig Production
Filmed on location in California, the Netherlands, Mongolia, Spain and the Czech Republic.
Some of the characters and situations on this web site are fictitious. Any similarity to actual persons, living or dead, is not entirely coincidental. No animals were harmed during the making of this web site, although one harp was somewhat the worse for wear. No animals were harmed during the making of this film, but one harp case was, although we are never, never, never going to speak of that again.
The Lazarus Harps will return in "THE CALL OF THE WIRE"
© MMI Kyle Wohlmut. All your base are belong to us.